Parks and Trails
COVID-19 SCREENING: Sports Fields
Participants and guests of Sports Fields will be required to complete an online screening questionnaire prior to activity.
Park & Trail Information
The City of Thorold manages and maintains over 250 acres of parks, trails and green spaces. We design municipal parks with you in mind. They provide recreational space for sport, leisure and your general enjoyment. Parks are available for use from dawn to dusk daily.
Booking parks and green spaces
To book passive parks or green spaces for special events or private rentals, contact the Community Services Department at Community.Services@Thorold.ca or call 905-227-6613.
Booking sport park facilities
The Community Services Division schedules field use during the summer months for youth and adult sports leagues. Youth sports and activities receive priority booking for soccer fields and ball diamonds when the parks are operational from May to October. Once minor sports teams have finalized their game and practice schedules, unused time becomes available for adult league play, tournaments, rentals and special events.
Sports fields are now closed for the 2020 season. To book sport park facilities (ball diamonds and soccer pitches) for league play, our can visit our online portal from May to September or contact us at Community.Services@Thorold.ca.
Special events
We offer permits for the use of municipal parks for community wide special events, festivals, private rentals, organized gatherings, wedding ceremonies and photos, and sport tournaments. Special event permits are arranged through the Community Services Department. The use of municipal property and facilities is only permitted when the conditions outlined in the Special Event Manual, including securing the appropriate liability insurance coverage, have been satisfied.
Trails
The Welland Canal Parkway Trail is a multi-use, paved trail that runs parallel to the Welland Canal and stretches 42 km from Lake Ontario to Lake Erie. This trail is part of a network of trails that form part of the Trans-Canada Trail Link and the Greater Niagara Circle Route.
The Welland Canal Parkway Trail is linked by the Waterfront Trail in St. Catharines, following Lake Ontario's shoreline and the Friendship Trail in Port Colborne, along Lake Erie's shoreline to the Niagara River Recreation Trail.
For more information on other multi-use trails in the Niagara Region choose from the following links:
· Bicycling and Walking Trails in Niagara
· Greater Niagara Circle Route
· Glenridge Quarry Naturalization Site

Smoke-free Outdoor Spaces By-law
In the summer of 2014, the Region of Niagara established a Smoke-Free Outdoor Spaces By-law that prohibits smoking in outdoor public spaces and is applicable at all municipal parks, playgrounds, splash pads, outdoor swimming pools, sports and playing fields and arenas. City Hall, the Thorold Public Library and all recreation and community centres are also included as prohibited areas. Community events and festivals that occur on municipal or regional property are subject to the conditions of this by-law.
Parks in the City of Thorold
PLEASE NOTE *** SWING SET AT PORT ROBINSON PARK WILL BE CLOSED UNTIL FURTHER NOTICE***
Explore the parks located in Thorold:
Allanburg Community Park
The Allanburg Community Park is a small park conveniently located on Falls Street in Allanburg, across from the Allanburg Community Centre. The park is equipped with a playground structure, monkey bars and a swing set. Benches surround the playground so parents can sit down to enjoy watching their children play. A single lane bocce court is also available for use making this park desirable to people of all ages.
The park is accessible from Hwy 20 and there is plenty of on street parking or the Community Centre parking lot. An adventurous cyclist can also access the Allanburg Community Park by travelling down the Welland Canal Parkway Trail, crossing the lift bridge and turning on to Centre St.
Battle of Beaverdams Park
The Battle of Beaverdams Park is a 10-acre, passive, community park in the heart of downtown Thorold, located on Sullivan Avenue. This historic park plays host to a wide variety of community events throughout the year including the Protection Hose Company No.1 Easter Egg Hunt and Canada Day festivities. This beautiful park is often requested for use by local community groups and organizations for gatherings and community picnics.
This park is home to Thorold's Millennium Cairn and contains several historical plaques including one describing the founding of Thorold. At one time the Welland Canal flowed through the centre of Battle of Beaverdams Park; remnants of it remain today in front of the bandshell
One of several plaques in the park, this one detailing the founding of Thorold
The city's bandshell is located in the Battle of Beaverdams Park which serves as the perfect stage for outdoor concerts complete with bench seating on the hillside. Washrooms are located at the back of the bandshell and are opened for use during special events and private rentals. Two large concrete pads are well-positioned in the park for you to set up a food service area, tables or an information booth.
The Thorold Reed Band performs its free summer pops concert series in the bandshell on Wednesday evenings. Bring a lawn chair or blanket for the best seat in the "house" or be sure to arrive early because audience members fill the benches across from the bandshell quickly.
Mature trees, a swing set and benches encourage families to spend time in the park. Walking paths connect Ormond and Towpath streets with Sullivan Avenue at the north end of the park, making access to downtown quick and convenient. Parking is available in the lot at the sound end of the park off of Ormond St.).
Beaverdams Village Park
The Beaverdams Village Park is nestled in Beaverdams Village at the end of Kaye Avenue. This 4-acre sports park includes a practice baseball diamond, a half-court basketball court, playground equipment and swing set. The Beaverdams Village Park is a great location for an afternoon of fun with the neighbourhood kids or a family picnic
C.E Grosse Park
C.E. Grose Park is located on McMann Drive and is home to Thorold's premiere, full-sized, lighted soccer pitch. The park boasts a permanent change and washroom facility that also houses the Thorold Soccer Club. This 4-acre park includes two carefully maintained bocce courts, playground equipment and a swing set for children and families to enjoy.
** Please be advised, the roof is set to be replaced from May 20 to May 29, 2020.
DeCew House Heritage Park
The DeCew House Heritage Park is a beautiful passive park located on DeCew Road along the shores of Lakes Moodie and Gibson. This jewel in Thorold's park system contains the remains of the DeCew House, the final destination of Laura Secord's journey during the War of 1812.
The remains of the Decew House are all that are left at this historic landmark.
The DeCew House Heritage Parking parking lot is a great place for hikers and bikers to access the Bruce Trail as portions of it run through the 6.5-acre park and further into the Niagara Escarpment.
Large, mature trees provide ample shade throughout the park and on to the Bruce Trail. This park makes a lovely location for a family picnic.
The DeCew House Heritage Park was the site of Thorold's War of 1812 Bicentennial celebration and festivities. This stunning park is often requested for use as a wedding location or for wedding photographs.
Hutt Park
Hutt Park is a beautiful, 9-acre, neighbourhood passive park situated between McDonagh Crescent and Forster Avenue. A huge oak tree marks the centre of this park and it is encircled by a concrete pathway that provides entrance to the park from either street.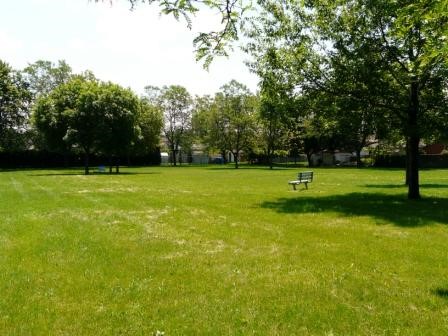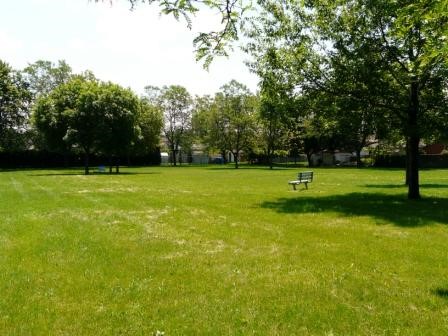 This park is dotted with mature trees that provide ample shade from the sun making Hutt Park the perfect location for an afternoon picnic with friends. Take a break from playing with your children and have a seat on the bench, then get back to the fun.
Jaycee Centennial Park
Jaycee Centennial Park is located on Towpath Street next to the Station #1 fire hall. This 1-acre, passive park in downtown Thorold provides a quiet place to enjoy your lunch or the sunshine
Martin Street Park
The aptly named Martin Street Park is bordered by Martin Street to the east and Queen Street to the west.
This 2-acre neighbourhood sports park is used often by the Thorold Legion Minor Baseball for many of its games, but is also available for drop in use when games are not scheduled.
In addition to the baseball diamond, a playground structure, monkey bars and a swing set are ready to welcome your family for an afternoon of fun.
McAdam Park
McAdam Park is a large, 10-acre community sports park located off of Ontario Street in Thorold South. A large pavilion at the park's entrance provides plenty of shade on hot, sunny days.
The splash pad, which operates from mid-June until the Labour Day weekend or longer depending on the weather, is a great place to cool off on a hot summer day. The splash pad at McAdam Park is well used by neighbourhood children.
McAdam Park is where you will find the city's skate park, complete with ramps, rails and stairs. The City of Thorold strongly recommends that all skate park participants wear appropriate personal protective equipment while using the skate park.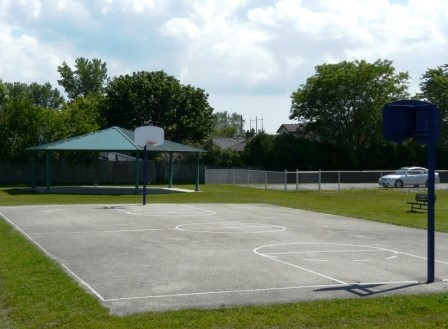 If basketball or baseball are more to your liking, then McAdam Park is the perfect place for you. A full-sized basketball court is waiting for a game of 3-on-3 or you can gather your friends for a quick baseball game.
For the younger children, two large playground structures and three sets of swing sets provide ample opportunities for recreational activities. This park is within walking distance of many homes for quick access to an afternoon of fun.
McMillan Park #1
McMillan Park #1 is the home of Thorold's premiere ball diamond. This 4-acre sports park is located at the corner of Carleton Street North and Regent Street.
The lit baseball diamond is complete with washrooms and change rooms, a batting cage, dugouts for the teams and concession stand. This hardball facility
The washrooms and concession stand are open when the park is booked for games and tournaments.
The scoreboard in centre field will keep track of the game as fans cheer on their favourite players from the sidelines. Thorold Legion Minor Baseball and several men's teams play games and host tournaments at McMillan Park #1 throughout the summer months.
In 2014, the field at McMillan Park #1 was retrofit to accommodate a high school football field. The Thorold Secondary School Golden Eagles now proudly call this park their home field. Portable football uprights along with additional padding around the light standards have made McMillan Park #1 a great place for our local high school football team to play.
McMillan Park #2
McMillan Park #2 is a 2-acre sports park found to the north of McMillan Park #1.
This park provides a large, open expanse of grass for sports practice or for children to run around.
Benches surround the splash pad and are a great place to sit and have a snack or to hang your towel while you enjoy the cool water. A small parking lot is available at McMillan Park #2.
Mel Swart - Lake Gibson Conservation Park
The Mel Swart – Lake Gibson Conservation Park is a 29- acre, waterfront park located on the shores of Lake Gibson. The park can be found at the intersection of Beaverdams and DeCew Roads near historic Beaverdams Village.
This park is an outdoor recreationist's dream. Benches to rest or watch the birds are dotted along the trails that wind throughout the park.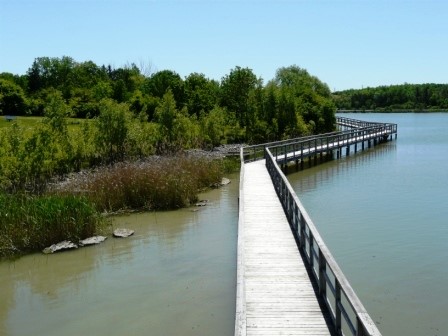 The boardwalk over the lake provides guests with a better vantage point to enjoy the view of the lake and shoreline. A unique rock feature provides a good location for friends to meet and enjoy the afternoon in the park. There is plenty of parking to accommodate guests and visitors of the park.
It was through the efforts of local residents and the City of Thorold that the park was officially opened in 2002. This park is an excellent example of re-naturalization that has encouraged the return of numerous indigenous species of birds and animals. The Mel Swart – Lake Gibson Conservation Park is part of the Niagara Greenbelt. More information about the park can be found by visiting http://www.niagaragreenbelt.com/listings/76-parks-gardens-a-conservation-areas/196-mel-swart-lake-gibson-conservation-park.html
Memorial Park
Memorial Park is a 3-acre, passive park that has been designated under the Ontario Heritage Act.
It is located behind the Ontario Paper Seniors' Centre at the corner of Albert St. E. and Chapel St. S.
This lovely park is filled with beautiful, mature trees and is the site of the City's War Memorial. The Canadian Corps Route path ushers you in to the park from the sidewalk and leads you to the park benches surrounding the cenotaph.
The Royal Canadian Legion Branch 17 along with the Canadian Corps Unit 44, host Remembrance Day and Decoration Day ceremonies in this park each year. Residents are invited to honour our veterans, and all who served Canada during war, armed conflict and peace at each of these services. Details of the memorial services are available on the Community Events Calendar in the months of November and June.
Port Robinson Park
The Port Robinson Park is a 3-acre, community sports park located on Canby Street in Port Robinson.
There is plenty of parking available for those making the trip out to the park. This park has it all; it features a baseball diamond with bleachers that is available for league play or drop-in use, a full-sized basketball court, playground structure and swing set, picnic table and a splash pad
The baseball diamond is available for scheduled league play during the summer season. Requests for use of the ball diamond by calling 905-227-1148 and should be accompanied with a completed Park Application Form.
The large basketball court is a great spot for friends to gather for a quick pick up game.
The playground at Port Robinson Park is large enough to accommodate a neighbourhood full of kids all at once.
When the kids have finished playing on the playground equipment, they can head over to the splash pad to cool down; it is a great place to start a water fight with friends.

As an added bonus, park patrons can enjoy watching the ships as they are piloted up and down the Welland Canal to the flight locks. The Port Robinson Park is a great location for family get-togethers as there is something for everyone to enjoy.
Richmond Street Park
The Richmond Street Park is located by the Thorold Community Pool on Richmond Street. This 4-acre park has plenty of parking available for families who want to spend the day here.
A pavilion houses three sets of picnic tables (one fully accessible) that provide a good view of the pool.
A walking trail winds through the park and is dotted with benches, picnic tables and charcoal barbeques.
Two, bocce courts are available for play, just bring your bocce ball set and have fun. If you stay long enough, the lights will come on and you can keep playing!
The Richmond Street Park is perfectly located for families who want to spend an afternoon enjoying the outdoor pool and having a picnic. The close proximity to the pool makes it the perfect place to spend some quality family time, but don't forget your loonies if you want to have a swim.
South Confederation Park
South Confederation Park is a 10-acre, community park that is accessible from Confederation Avenue, Parkview Drive and by paths connecting to the park off of Tara Crescent and Flannery Lane. These paths connect directly to the paved walking path that encircles the park's perimeter.
A soccer pitch with benches plays host to many Thorold Soccer Club games during the summer months.
The baseball diamonds (one hard ball and one T-ball) are frequently used by the Thorold Legion Minor Baseball teams.
Playground equipment and swings await children.
The splash pad offers respite from the summer sun or when children need to cool down from an afternoon of playing in the park.
The municipally operated tennis courts are located at South Confederation Park and are available for play on a first-come-first-served basis. A basketball court and open green space are also available for residents to enjoy.
Two large, onsite parking lots are available off of Confederation Avenue and Parkview Drive making tournaments and special events easy to access for those beyond walking distance of the park. A washroom building is located in the centre of the park and is opened during scheduled league play and for community special events.
Sullivan Park
Sullivan Park is a 4-acre, neighbourhood sports park that is bordered by Colborne, Maitland, Elgin and Sydenham Streets.
This park features a baseball diamond that is used regularly by Thorold Legion Minor Baseball for games, practices and tournaments. Lighting is available for evening games.
The ball diamond has plenty of seating available for fans to watch the games and dugouts to house the players. A washroom facility is available and open for use during scheduled league play and is conveniently located in the same building as the concession stand.
The playground equipment, swing and monkey bars are accompanied by benches so parents can sit down to watch their children have fun.
The pirate theme of the playground equipment is carried over to the splash pad where children can cool off in the water after playing in the park with their friends.
Winterberry Park
Winterberry Park is a newer neighbourhood park that was completed in 2014. This 0.5-acre park is located at the corner of Richmond St. and Winterberry Blvd. Adults and children can both enjoy the amenities of this new park.
The playground equipment is fully accessible and complete with a ramp to accommodate all levels of ability.
The swing set is complete with an accessible seat to ensure all children are able to swing at the park. Paved walking paths wind through the park and trees. A basketball court rounds finishes off the amenities, making it a great place for some adult recreation too. Young trees have been planted that will grow over the years to provide shade on hot days.